Arheloškim iskopavanjima u Donjoj Ržanici blizu Berana otkriveni su ostaci takozvanog Tumba grada, sa neprocjenjivim arheološkim blagom.  Time bi i Berane trebalo da se visoko pozicionira na mapi arheoloških gradova u regionu. Savjetnik predsjednika opštine Berane Darko Stojanović objašnjava da je riječ o još jednom u nizu projekata koji se finansira iz sredstava Evropske delegacije, a koji se sprovodi u Beranama.
"U prethodnom periodu realizovali smo dosta važnih projekata koji su milionskim sredstvima finansirani od Evropske unije. Evo sada tome dodajemo i ovaj važan prekogranični projekat iz oblasti arheologije i turizma" – kaže Stojanović.
Direktorica Polimskog muzeja Violeta Folić tvrdi da je to jedini projekat ove vrste u Crnoj Gori, vezan za konzervatorska i arheološka istraživanja, a da je finansiran iz evropskih fondova. Ona podsjeća da su ranije otkriveni slični gradovi utvrđenja, među kojim su još Gradac u Budimlji, Pećina grad u Radmanskoj klisuri kod Petnjice,  gradina Bihor, Samograd u selu Brzava kod Bijelog Polja, još arheološki nedirnuti Gradac iznad Godočelja kod Petnjice, Gradac u Crnči kod Bijelog Polja, Jerinin grad u Plavu, Gradina iznad sela Šabotići, i još dva u bjelopoljskoj opštini, Gradina u Koritima i Gradina iznad sela Muslića.
"Tumbarice ili Tumba grad u Donjoj Ržanici samo je jedan od njih" – kaže direktorica Polimskog muzeja.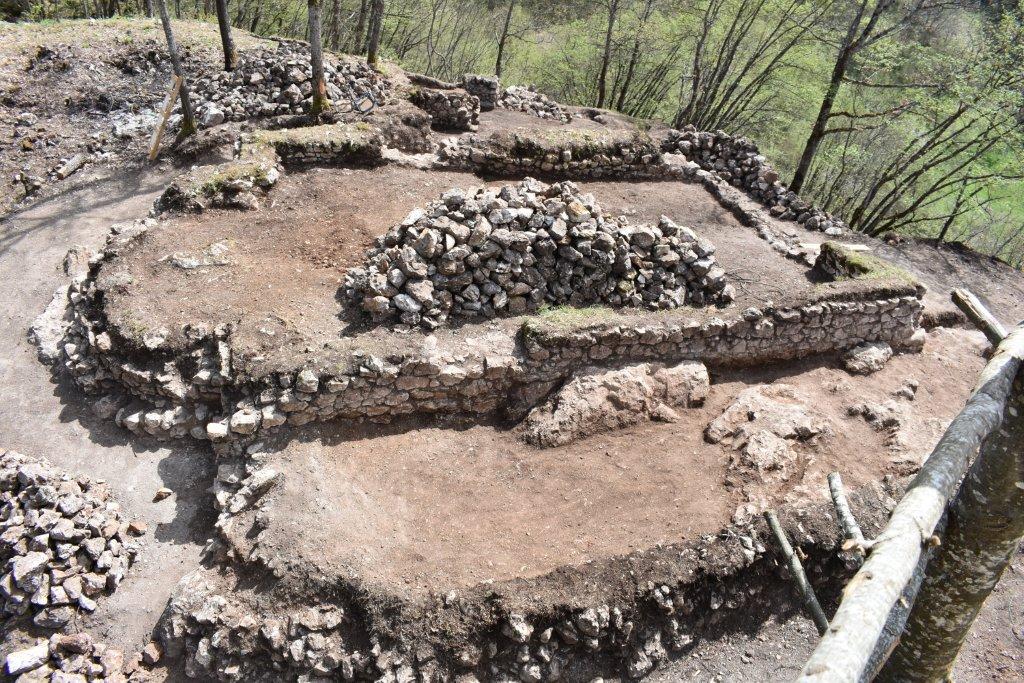 Šef Kancelarije za međunarodnu saradnju, đakon Konstantin Dojić, ističe da se radi o četvrtom projektu koji institucije Srpske pravoslavne crkve u Crnoj Gori sprovode uz finanasijsku podršku Evropske unije. Naučni radnici objašnjavaju da je Polimlje u arheološkom pogledu izuzetno bogato i da je to oduvijek bilo granično područje i prostor komunikacija, sa ko zna koliko takozvanih Gradina.
Ova arheološka otkrića bitna su ne samo za Polimlje, već za čitavu državu i pomjerila su  dosadašnja naučna saznanja o smjenivanju kultura na ovim prostorima.
U svjetlu tih činjenica prekokranični projekat između Crne Gore i Albanije, pod nazivom "Proširenje saradnje – od hrišćanskih starina do unaprijeđenog turizma", koji je prezentovan ovih dana u beranskom selu Donja Ržanica, na otkrivenim zidinama Tumba grada, ima poseban značaj. Kako za razvoj kulture i turizma, tako i za bolje međusobno razumijevanje i unapređenje odnosa.
Za više informacija, kliknite ovdje.
Izvor: Monitor